ArtCar Fest wants to work with you to find the appropriate sponsorship level, tailored to your needs
ArtCar Fest LOVES their sponsors, most of which have been on board for years. In exchange for your support, we can deliver an association with an extremely popular and proven event that appeals to families, art lovers, car lovers and free spirits.
May we Brag a bit?
ArtCar Fest Co-Founder, Philo Northrup, was just profiled in the Wall Street Journal.

Millions saw the National Geographic Channel documentary on ArtCar Fest, Watch Now

Millions saw the 2008 documentary on ArtCar Fest by the Smithsonian Network Watch Now
Thousands see and interact with the ArtCar caravan that starts ArtCar Fest every year.
Millions experience the fun, excitement and sense of wonder that ArtCar Fest delivers through television, radio, and print media that celebrates ArtCar Fest all year long
Benefits Include:
Having your logo on our website, press release and print materials
Your signage & banners displayed during the event
ArtCar visits to schools sponsored by you
Gala press events where the entire festival travels to your location
Naming & Presentation rights - We can even make a custom ArtCar for you!
"ArtCars are the quintessential public art of our time."
So said John Beardsly (Harvard Design School) because ArtCars exists in the midst of our lives, taking art where only cars can go. ArtCar Fest is the largest gathering of these ArtCars on the West Coast, and it celebrates the courageous individuals who create these mobile sculptures and drive them across town
and country to get here.
Broad demographic - we got that!
ArtCar Fest is 100% unique – it's both family friendly & cutting edge. Street Legal fun for the Male – Female – Tween - AARP – Ad Man Dad – Soccer Mom - Teen – Contemporary Art – Car Culture – Cowgirl – Homeboy crowd.
Have you ever heard of an event that's been featured in such diverse media as: Art in America, Readers Digest, The Wall Street Journal, USA Today, Children's Television Workshop, People Magazine, Juxtapoz, Wired & AARP Magazine?
Feature Documentaries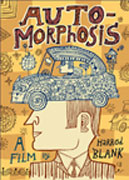 On top of this press coverage are the documentaries that profile ArtCar Fest every year. This year it's the National Geographic Channel, plus Harrod Blank's new film, Automorphosis, is touring America Coast to Coast (and even Hawaii) in 2010 and winning awards and great reviews at every venue.
Here is just a sampling of international ArtCar Fest documentaries:

National Geographic TV Documentary on ArtCar Fest 2009 Watch Now

Wealth TV Documentary on ArtCar Fest 2007 Watch Now

Smithsonian TV Documentary on ArtCar Fest 2006

Magazine Rack Documentaries by Cable 1 TV, NYC on ArtCar Fest 2004 & 2005 Watch Now

Disney's 2004 America's Heart & Soul movie

Discovery Channel's 2001 American Odyssey show

Travel Channel's 2000 American Journeys show Watch Now

National Geographic Explorer show 1998, Driving the Dream by Harrod Blank

Mein America by ARD German TV, Berlin, Germany, 1997 Watch Now
And the list goes on and on . . . see these articles and more in our media section.

The popularity of ArtCars goes across the board allowing our supporters to be recognized in association with this booming art movement.

Please contact Philo Northrup to see how we can work together!
We Love Our Sponsors!